My lovely blogger friend Sarah is doing another
Mood Board Monday
over at
Pewter & Sage
. This time our inspiration comes from our choice of some beautiful examples of China. I choose the
Chirp Collection
, from Lenox Simply Fine Dinnerware, available at Macy's: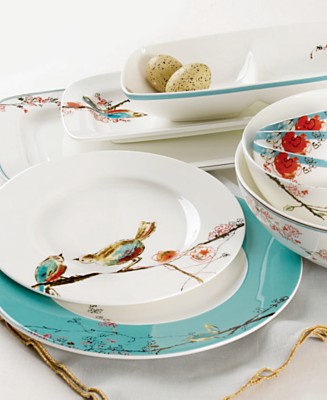 And here is my Mood Board.
This is WAY WAY more rustic than my real style, but that is a huge part of the fun for mood boards for me - stepping out of your comfort zone. Once I felt that rustic vibe from the table, I just let it go - from the hutch to the chandelier to the candelabra on the table. With the china patter, chairs and curtains I tried to pull in a bit of elegance as well. So I guess it is a very eclectic mix of Elegant Rustic. The teal wall is an accent wall with the main wall color being the taupe, pulled from the chairs. The windows are on the taupe walls so I pulled the accent color to those walls with the curtains. I added some trendiness with the chevron rug, ceramic deer head and star burst mirror. I think that covers all decorating styles in one very eclectic room. Hope you enjoy it!